LeRoy Henderson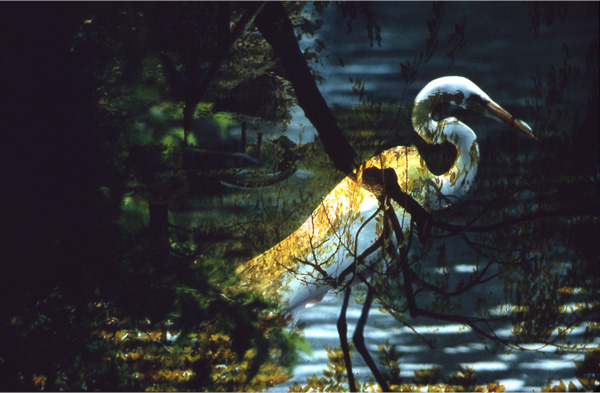 Egret (Brooklyn Botanical Garden, New York), 2013
Digital print made from a color image in 1979, 21 x 24 inches
Born Richmond, Virginia
Lives and works in New York City

Education
1967-70
Graphic Design/Photography/Film, School of Visual Arts, New York
1966
M.S., Pratt Institute, Brooklyn, New York
1962
Printmaking, Pratt Graphic Arts Center, New York
1959
B.S., Virginia State University, Petersburg, Virginia

Solo Exhibitions
2013
Fantasy & Reality: Photography, June Kelly Gallery, New York.
200

9

Mermaids and Masquerades, June Kelly Gallery, New York
2008
Protest: Photography, Bannister Gallery, Rhode Island College, Providence, RI
200

7

Protest: Photography, Malcolm Brown Gallery, Shaker Heights, OH
Protest: Photography, June Kelly Gallery, New York
200

6

Black Women: a place in history, Five Myles Gallery, Brooklyn, New York
200

5

Brooklyn Diversity, The Corridor Gallery, Brooklyn, NY
2003
All Our Children, sponsored by Brooklyn Arts Council, Brooklyn Moon Café,
New York
2002
LeRoy Henderson and Charles Martin: Photography, HBO/Time Warner
Entertainment Company, New York
2001
LeRoy Henderson: Photography, June Kelly Gallery, New York
1999
LeRoy Henderson: Photography, Manhattanville College, Purchase, New York
1973
LeRoy Henderson: Photography, Donnell Library, New York
1970
LeRoy Henderson: Photography, Long Island University, Brooklyn Campus, New
York

Select Group Exhibitions
2013
Convergence: Jazz, Films, and the Visual Arts, curated by Dr. Robert E. Steele,
Dorit Yaron, Sonié Joi Ruffin-Thompson, organized by the David C. Driskell
Center, College Park, MD and the American Jazz Musicians, Kansas City,
MO; travelling exhibition, catalogue
Art & Soul: Vintage Photographs by Four African-American Photographers,
Keith de Lellis Gallery, New York
I AM, Photographs & Prints, Works from the collection of Raymond J.
McGuire, Hotchkiss '75, Tremaine Gallery AT THE HOTCHKISS SCHOOL, Lakeville, CT
2012
Eye of the Photographer, Dorsey Gallery, Brooklyn, NY
2011
30: A Brooklyn Salon, curated by Elizabeth Ferrer, BRIC Rotunda Gallery,
Brooklyn, NY; catalogue
2010
Eyewitness Beautiful Black Brooklyn, Skylight Gallery, Restoration Center for
Arts Culture, Brooklyn, NY; catalogue
2009
Art & Democracy IV, 20th Anniversary of Tiananmen & The Fall of The Berlin Wall,
Visual Artists Guild, New York
I Am a Man, organized by Laurie Cumbo and Kimberli Gant, curated by Kevin
Powell, Museum of Contemporary African Diaspora Art, Brooklyn, NY
New York in Focus, curated by Gregory Pierre Minsk, New York Health and
Hospital Corporation, New York
2008
Road to Freedom: Photographs of the Civil Rights Movement, 1956-1968,
curated by curator of photography, Julian Cox, High Museum of Art,
Atlanta, GA, traveling exhibition, book
2007-08
Vietnam Veterans' Oral History, Brooklyn Historical Society, NY
2007
Celebration: Nine Artists Commemorate the 35th Anniversary of Winston-Salem
Delta Fine Arts, NC; brochure
2004
Hearing Voices: Personal Narratives, Bristol Myers Squibb, Lawrence Township,


NJ
200

2

Flash, City Gallery East, Atlanta, GA
2001
Committed to the Image: Contemporary Black Photographers, organized by
Barbara Head Millstein, curator of photography, Brooklyn Museum of Art,
New York; catalogue
2000
Reflections In Black: A History of Black Photographers 1840 to the Present,


organized by the Anacostia Museum and Center for African American


Identity and Culture, Smithsonian Institution, Washington, DC; traveling


exhibition, catalogue
Resurrection City: The Poor Peoples Campaign of 1968, New School University,


New York
1999
Black New York Photographers of the 20th Century, Schomburg Center for


Research in Black Culture, NY
1994
Photographers Annual, 843 Studio Gallery, Brooklyn, New York
1993
Selected African American Photographers," 73-93," Crawford Gallery, New York
1988
Small Works, Cinque Gallery, New York
Curators Choice: The Photographer's Mind, CEPA Gallery, Buffalo, NY
1987
Ars Brvklyniensis: Part IV: Photography, Wiesner Gallery, New York
1985
Positive Images of Black Americans, World Institute of Black Communications/
CBS, New York
The Family, 22 Wooster Gallery, New York
1984
Photo Narration, Rotunda Gallery, Brooklyn, NY
1983
The Chair Show, BACA Downtown Cultural Center, Brooklyn, NY
1981
Black Enterprise 10th Anniversary Collection, CRT Craftery Gallery, Hartford, CT
1980
Self-Portrait, The Studio Museum in Harlem, New York, traveling exhibition,


book
1977
The Black Photographer's Perspective, The Wisconsin Union Galleries,


University of Wisconsin-Madison, WI
1972
An Exhibition of Contemporary Art by Black Artists, C. W. Post College, Long


Island, NY
1971
One A-Piece, The Studio Museum in Harlem, New York
1969
Focus on Brooklyn II: Twenty Photographic Personalities, Community Gallery,
Brooklyn Museum, New York

Public and Corporate Collections
Brooklyn Museum of Art, NY
Smithsonian, National Museum of African American History and Culture, Washington, DC
Virginia Museum of Fine Arts, Richmond
Schomburg Center for Research in Black Culture, New York
Harpo Studios, Chicago, IL

Film/Video
2013
Snoad, Peter, playwright, "The Draft," a multi-media documentary play that,
includes an on stage projection of LeRoy Henderson's photograph, "Anti-
Vietnam, Why Should I Fight in Vietnam," multiple venues
2000
"Jazz," Florentine Films/Ken Burns Documentary, PBS Video Series, New
Hampshire & New York
1999
"I'll Make Me A World: A Century of African-American Art," PBS Video Series,
Executive Producer Harry Hampton, Blackside, Inc., Boston, MA
1992
"You Gotta Pay the Band," an Abbey Lincoln Portrait, Gene Davis Productions,
New York

Special National Tour
2008
Fifteen photographs by LeRoy Henderson were included in "Know Your
History," an exhibition organized by American Legacy Magazine that
visited 12 U. S. cities in early 2008. The tour highlighted African-American
history and culture and included images from Henderson's "Black Women,
A Place in History" series.